We have been working hard on What's Next for Bronco Athletics, and positive change is evident throughout the Nicholson Yanke Athletic Complex at Boise State University.
We began 2021 by welcoming a new Athletic Director, Jeremiah Dickey, to The Blue. 
After that, we welcomed a former Bronco home, Andy Avalos, as our newest Head Football Coach in January 2021.
Over the last year, we have seen our Women's Soccer team finish top two in the Mountain West Conference. We have watched our Women's Volleyball team win the Mountain West Championship. We have celebrated 30 years with Women's Golf as a sanctioned Bronco sports program. 
Our men's basketball team is ready to compete for a conference title. Bronco Football finished the 2021-22 season achieving bowl-eligible status for the 24th consecutive season. This is the 3rd longest streak in college football history, trailing Ohio State (33) and Georgia (25).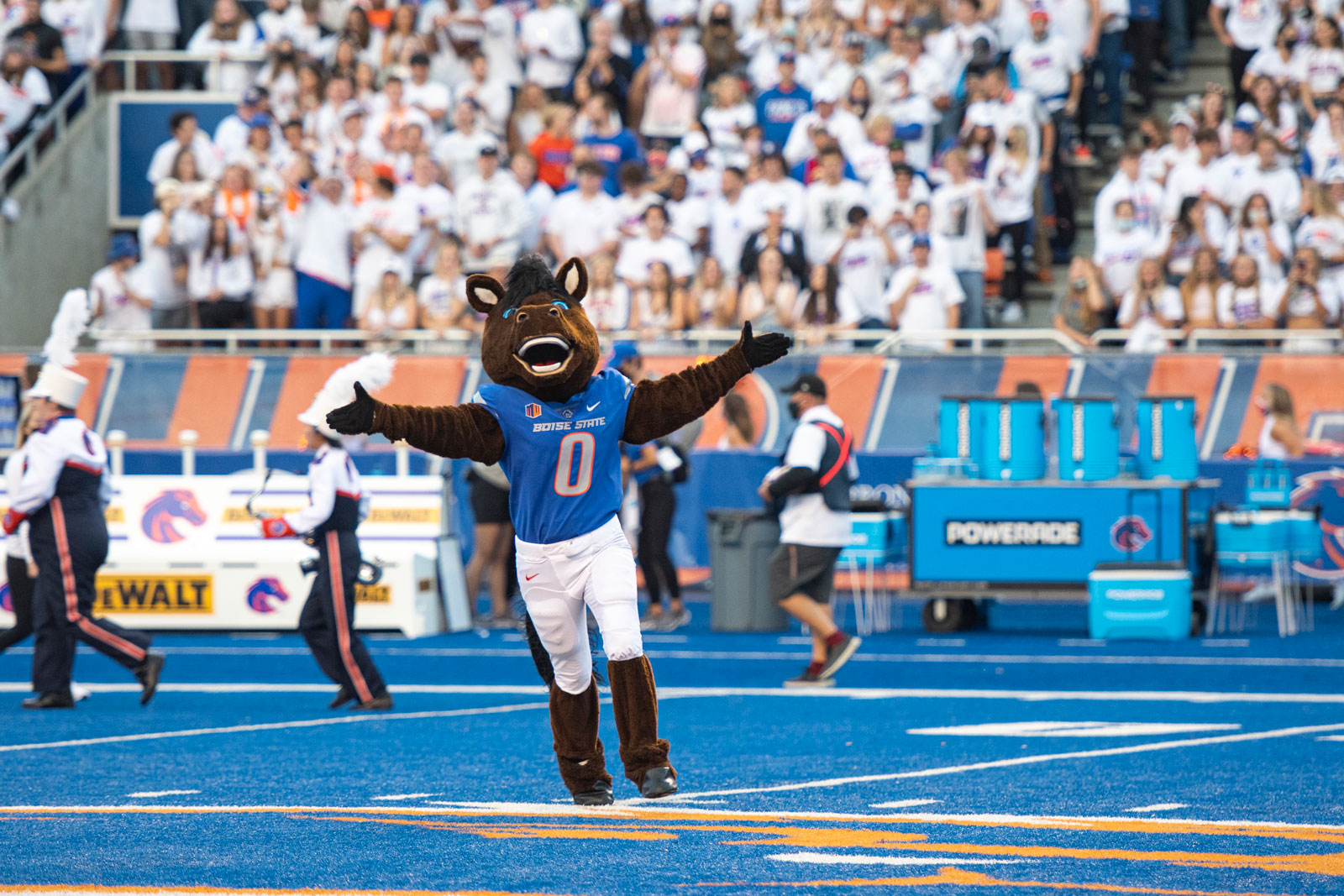 Our positive changes have continued across campus, our wins in the classroom have been equally as impressive as our wins in competition. 
Once again, the Broncos set academic records with an all-department grade-point average of 3.34 during the fall semester, making it the highest fall-semester GPA in Bronco Athletics history. With women's tennis leading the way with a 3.91 GPA, they were one of four programs to establish team records. Also setting program bests were beach volleyball (3.78), women's basketball (3.69), and football (3.15).
We have hired our first full-time sports nutritionist, a new Director to lead our Varsity B, and our first-ever Associate Athletic Director for Business Development and Revenue Innovation. This program will include Boise State's newest business unit responsible for the pursuit, execution, and management of emerging revenue opportunities and enhancing existing revenue streams by implementing tech-forward and ROI-driven strategies. Included among the initiatives are Boise State's in-house Name, Image, and Likeness program.  
This year we launched a multi-year effort known as the What's Next Initiative focusing on a multi-year plan to enhance our infrastructure, revenue generation, student-athlete experience, and marketability. Boise State Athletics is on the verge of becoming a leader in college athletics. Our time is NOW to impact the trajectory and sustainability of Bronco Athletics for years to come. In conjunction with the What's Next Initiative, a multi-year effort to grow the Bronco Athletic Association membership and strengthen support for Boise State student-athlete success. Our goal is to cultivate 10,000 new BAA memberships by the year 2025. 
What's Next for Bronco Athletics? Only time will tell. What we do know is that your support is vital to our success as an athletic department. To our existing BAA members. You're the reason we reached the top in the first place. We ask that you consider taking your contribution to the next level or helping us reach our goal of doubling our membership by referring family and friends. To the many Bronco fans in the Treasure Valley and beyond who are not BAA members, please consider pledging your financial support to the student-athletes who make you proud to fly our colors and rep our logo. By supporting the Horsepower Drive for 10,000 BAA members, contributing to upcoming capital projects, and sharing our story, together, we can define What's Next.
---